September 11, 2023 Update: Starbucks (NASDAQ:SBUX) Stock Technical Analysis
From the analysis of the chart, the current stock price is in the range of $93-$105 fluctuating, short-term stock prices are in the range fluctuation lower line of $93, can participate in a small number of positions to participate in the rebound market, recommended buying price of $94, selling price of $99, target price of $100, stop loss price of $93, but not much space, short-term breaking price of $93, if effectively broken, may fall to the range of $85-$88, but the overall decline space is limited, is expected to not exceed 10%.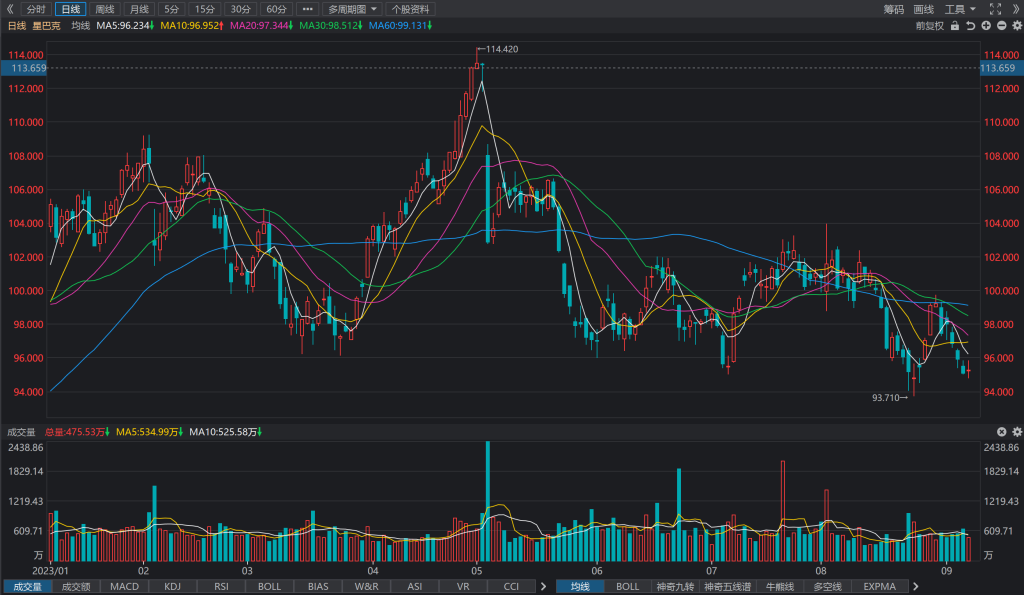 Daily candlestick chart
From the fundamental analysis of financial statements
Third-quarter revenue of $9.168 billion, up 12.49% year-over-year, market expectations of $9.28 billion, net profit of $1.142 billion, up 25.1% year-over-year, adjusted earnings per share of $1, better than market expectations of $0.95, compared to $0.79 in the same period last year, same-store sales up 10.0, analysts expected an increase of 11.1. Starbucks expects fiscal 2023 revenue growth of 10% to 12% and expects adjusted earnings per share to increase 16% to 17%, compared with previous expectations of 15% to 20%. At the end of the quarter, there were 37,222 stores worldwide, 16,144 stores in the U.S. and 6,480 stores in China. The company's overall revenue maintained growth, same-store sales maintained growth, market expectations were good, and the medium-term and long-term target price was more than $120.
Technical Analysis Historical Forecast Record: